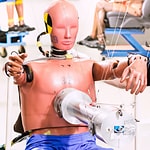 Vehicle crash tests involving talking dummies are a recurring theme in car commercials. The reality isn't so far off. Experts study how vehicles and crash dummies behave in common road crash scenarios. Results indicate a vehicle's crashworthiness, which then corresponds to a vehicle safety rating. Our Gainesville, GA Jim Hardman Buick GMC, Inc. team has the basics.
National Highway Traffic Safety Administration (NHTSA)
The NHTSA issues ratings annually, conducting 90 to 125 or more annual tests in five main road crash scenarios: static stability, rollover resistance, side pole, side barrier, and frontal crash. The NHTSA uses stars to rate vehicle safety, with the highest rating of five stars indicating a vehicle of exceptional crashworthiness.
Insurance Institute for Highway Safety (IIHS)
The IIHS also issues ratings annually, except it uses verbal ratings: Poor, Marginal, Acceptable, Good, and Good+. The ratings indicate a vehicle's crashworthiness in six main categories: roof strength, side strength, passenger-side small-overlap, head restraint, moderate overlap front, and driver's-side small-overlap front.
In recent years, both the NHTSA and the IIHS began incorporating results of tests on advanced safety features and LATCH.